I am sure all writers and avid readers of books have their favorite books that they use for inspiration. Well, since I like hiking, nature study and photography in the company of my dog K2 and I love to read, I, too, have a list of my favorite books that I draw my inspiration from. Here is my list of 5 books that combine my passion for all outdoor activities. The list is in chronological order the books were published.
1. Man-eaters of Kumaon (First published 1944)
I love dog stories. It does not matter what breed or what type of dog is the subject. I got into reading dog stories through Jim Corbett's accounts of his hunting man-eating tigers of India. Corbett preferred to hunt alone and on foot when pursuing dangerous game. He often hunted with this small dog named Robin, He wrote about him in many adventures in his first book The Man-Eaters of Kumaon. Those stories were nerve wrenching as I read them when I was in my pre-teens and early teens. How Corbett put his little friend to work attracted me to the adventures of hunting man-eating tigers.
Some facts about the book: By May 1946 over half a million copies of Man-Eaters of Kumaon were in print. The book had been translated into four languages (including Czech and Finnish) as well as six Indian languages. By 1980 the book went on to sell over four million copies world wide.
JIm Corbett National Park named after the author and hunter of British Raj is on my dream list for visiting.
2. Time is short and the water rises, Operation Gwamba by John Walsh (First published: January 1, 1967)
This is the first non-fiction adventure book I read before coming to the USA for my studies in 1980s after borrowing it from the American Center in Karachi, Pakistan.

As the subtitle suggests, this a true heartwarming story of the rescue of 10,000 animals from certain death in the rain forests of the southern American country of Suriname, told by the rescuer John Walsh, who lived the event. This is book that brought intermittent tears of joy and of pain, so touching and memorable that I ordered it again in 2009.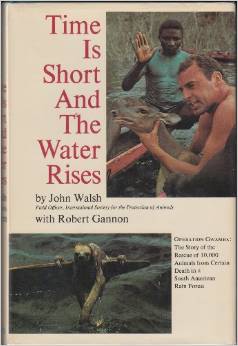 What I liked about the adventure was that John broke them into smaller stories, which were a delight to read. These smaller stories inform us about the country, geography, wildlife, and its culture of that time. One chapter that particularly brought tears in my eyes was about a little puppy, abandoned by the villagers due to rising waters, who sees its little island slowly giving way to water as it relocates itself finally on the rooftop of a sinking hut. It was ultimately rescued by the team just in time and grew up into a rescue assistance dog.
John Walsh and his team adopted many dogs as pets and used them in their animal rescue operations. Indeed there were some humorous stories about some of them.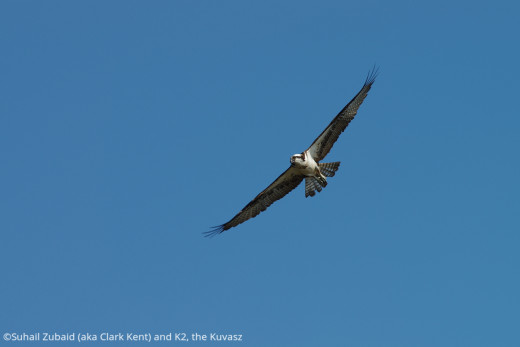 I am sure that my love for wildlife protection and dogs were picked from this book. My dog K2, a Kuvasz, accompanies me to all flora and fauna photography trips. In the picture above, this Osprey is actually eyeing both of us as it flew over a lake hunting for fish.
3. Blind Courage by Bill Irwin and David McCasland ( First published March 4, 1993)
This book narrates a story of a blind man, Bill Irwin, who, with his guide dog , Orient, hiked the 2100 miles of the treacherous Appalachian Trail. The adventuresome duo was affectionately nicknamed 'Orient Express. Many hikers like me were in total awe of the feat.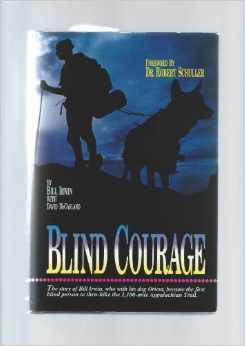 Bill Irwin moved on to become a motivational speaker, something he continued until his death on March 1, 2003. He was 73. Washington Post covered him then these words, "Mr. Irwin was feted as an inspiration to hikers and disabled people when, on Nov. 21, 1990, he became the first blind man to traverse the Appalachian Trail, which stretches more than 2,100 miles, from Georgia to Maine. Admirers across the country watched news reports of him dropping to his knees to pray after ascending 5,269 feet on Mount Katahdin, Maine, the northernmost end of the trail. Members of his home church were there to greet him and sang "Amazing Grace."
After reading this book, my faith in the "disability aid" or "assistance dogs" increased manifolds. We are aware that dogs are used as 'Guide Dogs' and 'Hearing Dogs', but fewer of us know that they are being used as service dogs and as help in sensory processing disorders. For example, an Autism Service Dog will interrupt behavior of an autistic child who is self-harming or provide a counterbalance to latter's poor balance.
4. Following Atticus by Tom Ryan (First published: January 1, 2011)
Subtitled 'Forty-Eight Peaks, One Little Dog, and an extraordinary Friendship', I loved reading about the adventures of a team of two most unusual partners who conquered 48 four-thousanders (peaks taller than 4,000 feet) of New Hampshire not only in summers, but, most of them, twice in winters.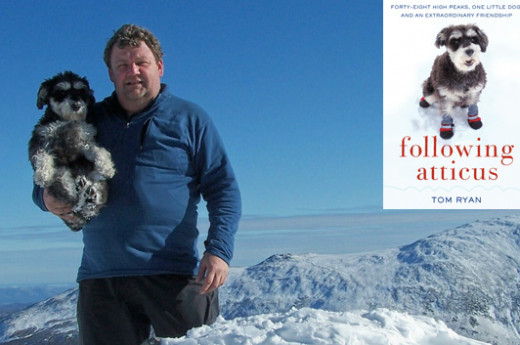 I did not realize that hiking and trekking with dogs is an addictive hobby. Tom describes all his mountain climbing adventures at a personal and emotional level that keeps you totally engrossed. He described his excursions in such a livid way that I imagined myself becoming an uninvited partner over and over again.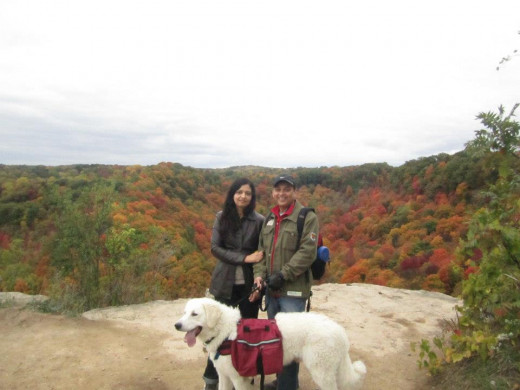 There is a personal take for me. I love hiking with my dog, but was a reluctant day-long hiker. Although I will never try to emulate Tom and Atticus on conquering mountains in winters, I was able to muster enough courage from reading the account of these two `warriors' to get going on longer and longer hikes, pushing myself to the limit, in the winters of southern Ontario. And of course, just like Atticus, K2 loves it.
5. Malamute Man: Memoirs of an Arctic Traveler by Joe G. Henderson (First published: January 12, 2012)
I may be a little biased in my review of this book, because I love dogs, hiking, dog sledding, and reading about extreme adventures. This book contains all of these ingredients.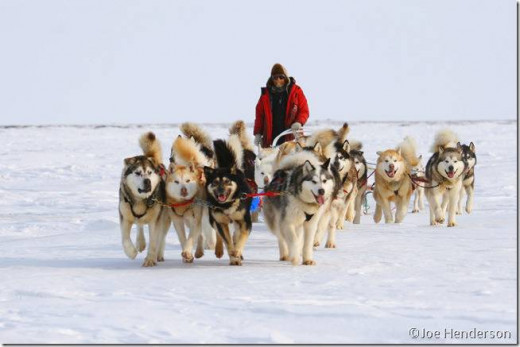 First of all, hats off to the adventurer / writer for choosing to relocate to the far corners of Alaska with only one Malamute puppy to begin with. Eventually, he puts to work 22 Alaskan Malamutes for what they were originally meant to do – carry huge loads across the arctic region, rather than keeping them as pets only. Second of all, I salute him for restricting himself to minimum of technology. The team of dog and one man are on their own deep in that frozen hostile region.
The book is written in a very interesting and involving manner, giving details of his various dogs, their personal traits, and events associated with some of them. He also presents, in a very lively manner, various thrilling incidents (and accidents) he faced during his many forays.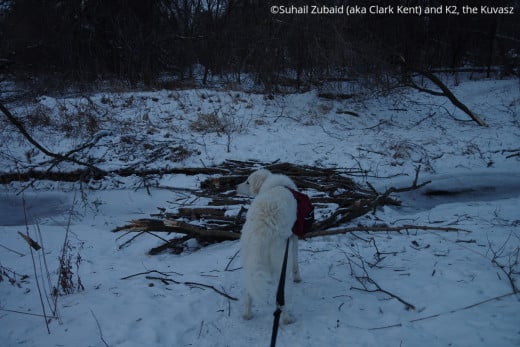 Although he lives off the land, stories about his experience with wildlife are both thrilling and engaging. I need to learn from the passion he shows for wildlife.